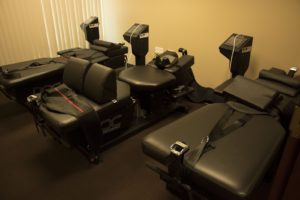 WHAT IS SPINAL DECOMPRESSION?
Spinal decompression is a series of exercises, spinal mobilization techniques, and rehabilitation procedures designed to retrain neuromuscular control of the spine and posture. Spinal decompression patients will also be taught techniques to use at home for more extensive, self-rehabilitation.
Nevy Health uses the state of the art DOC decompression tables at our location in Mesa. The DOC is integral to effective treatment. The DOC combines the force of gravity with vibration to exercise the heart muscle along with rehabilitating the spine.