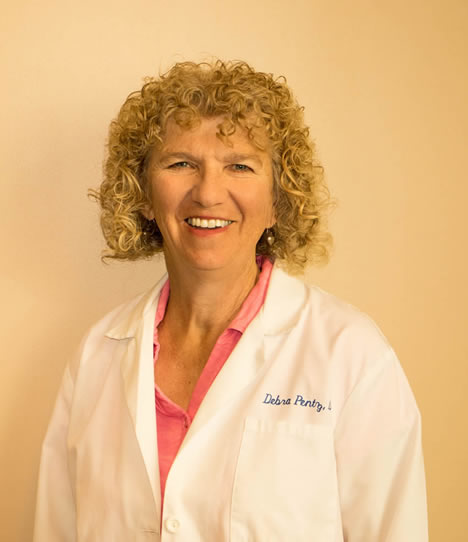 Dr. Debra Pentz is a natural at the work she does as a Mesa Chiropractor here at Nevy Health, but she hasn't always been a chiropractor. In her first career, Dr. Pentz worked in the corporate world in finance and accounting.
So, what caused this shift into chiropractic care? "It was very stressful, and I saw my chiropractor about every two weeks on a Friday afternoon. Even though I was young and healthy, I felt exhausted until I got adjusted. The other thing that I observed was the boundless energy my chiropractor had on a Friday at 5:30 pm, even though she was a few years older than I was. I thought – "I want what she has – a great career, where you feel energized, even late on a Friday afternoon." I knew I didn't want to be in the accounting field for another 30 or 40 years, so I made a dramatic career change and became a chiropractor. I wanted to enter a field where I could choose where I wanted to live and be of service to others."
And Dr. Pentz does an excellent job providing a service to others. Recently, one of her patients shared her experience of working with Dr. Pentz, "I have been going to Dr. Pentz for a few years. She is wonderful and has always helped me. She is the most gentle chiropractor I have had in over 30 years yet accomplishes what others did with far less stress or abrupt adjustments. Truthfully, in the beginning, I wondered if she had done her job or what it was I had just paid for…she is that gentle! (yet quite effective) Most importantly she listens and tries hard to see where your head is and what you feel."
Since her days in the corporate world, Dr. Pentz has maintained her passions for golf and empowering women. Coming from the corporate world, she experienced many opportunities that were created through the doors that golf created for her. To share her experience with others, she co-authored the book – "Smashing Balls – Golf, Opening Doors for Women." Dr. Pentz also offers seminars and does speaking engagements to promote women empowerment through golf.
At Nevy Health, Dr. Pentz loves the opportunity to work alongside talented health care professionals that are all dedicated to providing the services necessary to help people achieve their optimal health. When she isn't in the clinic working, you can find Dr. Pentz on the golf course or dance floor, hiking, fishing, kayaking, or wine tasting.